Ilustration Friday entry for the topic – Toy (भातुकली)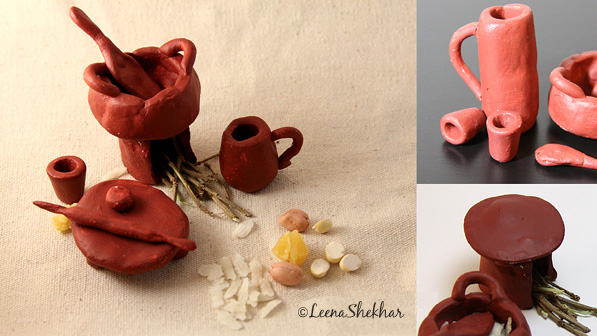 Ilustration Friday entry for the topic – 'Toy', originally uploaded by Leena Bagawde.
Toy…when you think of a toy, you will find thousands of beautiful and different types of toys all over.
When I was a child, I had very few toys…and one of them was a set of 'Bhaatukli' (भातुकली) which means a set of 'cooking utensils'. Most of girls in India are familiar and might have played with this in their childhood.
Earlier this cooking set was made of clay, then came the wooden version…and nowadays you will find it in steel as well…"I have the one made in 'Copper' back home in India!"
The treats used for playing with this were peanuts, jaggery, rice flakes etc. The whole afternoon in summer vacations were full of 'Bhaatukli' (भातुकली) playing with friends.
Childhood, the beautiful days of life…
For this week's topic, I used 'Air Dry' Clay to craft this cooking set toy and painted it to give the 'Terracotta' look. Hope you like it.